An insider at Baselworld 2014 - Emmanuel Alder
Back from the biggest international watch exhibition, Emmanuel Alder, alias Barnabé Hossien - journalist - answers to Watchonista.com. He tell us about models, personalities, brands and so on.
Emmanuel Alder is a journalist who has been following a training course in watchmaking since 2012. Under the pseudonym Barnabé Hossien for his writings, he is our amateur.
Your most unfortunate late arrival…
The good ones are never late! And anyway, have you met a watchmaker who is ever on time?
Your most remarkable meeting
Firstly, the impromptu meeting I had with the designers of an upcoming brand. They made me want to write about them and thus changed the planning of the editor in chief! Secondly, a meeting with a family-run company "from far away" who want to create a spectacular "more Swiss than ever" product.
Your best encounter
This is quite a difficult one. I can't remember the names of all the hostesses I admired!
Your best surprise
Nothing surprises me anymore…
Something that struck you about the organization
Nothing and this just goes to prove that the organization is first-class! Except for the lack of space at the Media Center during breaks, everything was perfect!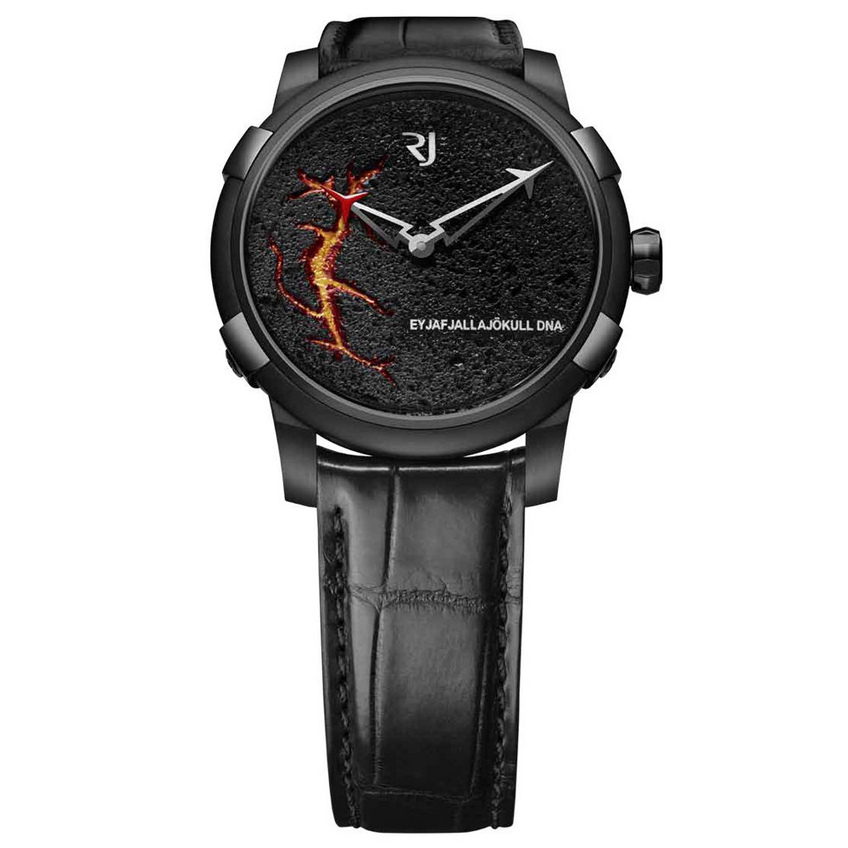 Romain Jerome Eyjafjallajökull Evo
Your shortest night
There is no day and night during BaselWorld. Time simply freezes!
Your longest day
There wasn't one! They were all too short for me at BaselWorld!
Your favourite watch
I would probably say the one presented by Romain Jérôme. The "moon powder" they added to the watch's components was outstanding. Pure poetry! Other than that, there was also the quite perverse amusement of asking the charming PR to correctly pronounce the name of the famous volcano in Iceland that was the talk of the town everywhere in the world at some point and that was nicely displayed on one of their new watches!
The contact you most look forward to following up on and to getting to know better
It is the upcoming project that consists of creating the thinnest tourbillon in the world and which will entail the production of only ten models per year. It should soon be heard of and will be highlighted very nicely!
The sentence or words that got to you!
"So, have you seen beautiful things???"
By
Joel Grandjean
,
Editor-in-Chief
Back from Baselworld 2014, Gregory Pons - Editor in chief of Business Montres & Joaillerie - answers to Watchonista team questions. He tell us about...
By
Joel Grandjean
,
Editor-in-Chief
Returning from the world's biggest watch trade fair, Suzanne Wong, Editor-in-Chief at REVOLUTION Asia, answers a set of questions on her Baselworld 2014....