Gregory Pons interviewed on Baselworld 2014
Back from Baselworld 2014, Gregory Pons - Editor in chief of Business Montres & Joaillerie - answers to Watchonista team questions. He tell us about watches, people, brands and so on.
Your most unfortunate late arrival…
Not so much being late, nor missing a rendezvous, I arrived at the Bulgari stand one hour early! I misread the time on my diary. As a result, I had time to enhance my discovery of their most coherent and consistent collection. The brand had not produced it in at least fifteen years (it is what may be called the "Babin effect")
Your most remarkable meeting
I met a kind of Dr Strangelove of avant-garde metallurgy in the Hublot lounge. He is a chemistry or an alchemy teacher; I cannot recall exactly what he told me. He is internationally renowned in his field: this crazy scientist has successfully mastered the crystallization of osmium, the rarest metal on earth, by making Hublot buy one third of its international production. For meta-jewelry purposes, he made this crystallized osmium so shiny that it could be what the explosion of an atomic bomb is compared to that of a firework on14th July. That is, a "flash which is brighter than a thousand suns".
Your best encounter
As far as beauty is concerned, I would obviously choose Sandra Martial, the most beautiful watchmaker of all BaselWorld. She was there to introduce this year's first collection of GTO, her new brand GTO. Concerning the actual encounter, I would go for the one with Beat Haldimann, the "friendly giant of Thun lake" (Switzerland), who was presenting his acoustic hour display: a central tourbillon with no hands doubled with a minute repeater, which trully allows us to hear the time without having to calculate the angles on the dial. After all, why would one want to read the time when it can be heard?
Your best surprise
The three Academy Christophe Colomb Revolución by Zenith. Business Montres was the first to write about this because it is a set of watches that got it all wrong except for the box. Everything about it is false: Che Guevara was a small cigar-smoking guy from the Gestapo and not a "liberator". If taken at face value, the heroics-decorative chromo is burlesque. 1.2 million dollars in tribute to the revolution is just ridiculous, even if it made Bernard Arnault shed tears of joy! As a matter of fact, icons are no laughing stock, especially if it is Guevara. The kitsch grandiloquence pushed to this level of incandescence is enormous; 1.2 million dollars is enough to support some watch craftsmen or decorators for quite a while.
And yet I did not mention the retro-futuristic escapement hidden under the bulb, but that we already knew…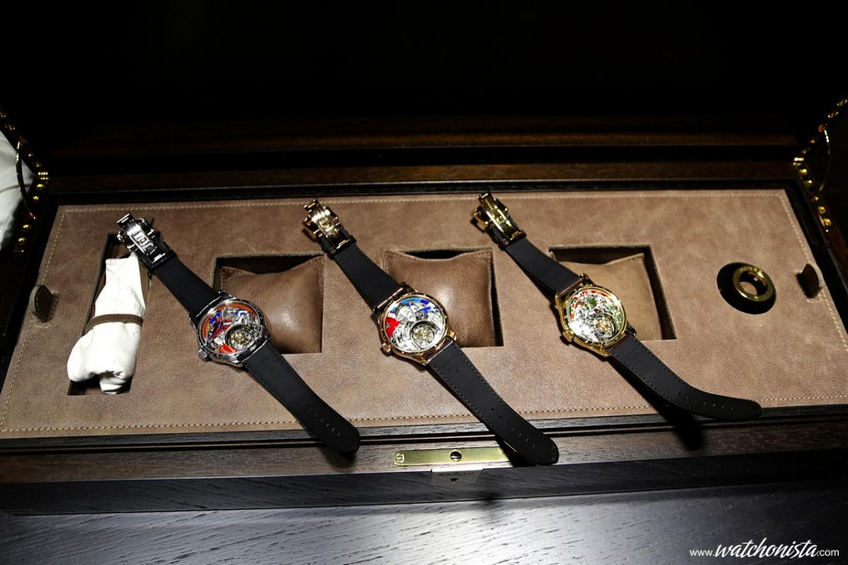 Zenith Academy Christophe Colomb Revolución
Something that struck you about the organization
The new media center including its office with a sinusoidal panoramic view (on the piazza and the tramways), its usual filling sandwiches à la Swiss-German, its refreshing Apfelsaft mit gas, its huge dustbins filled with everything deemed useless in a press kit (95% of its content) and its eternal PR manager for Swiss exhibitors – his pendrive is irreplaceable and could almost relieve us from spending a week at BaselWorld.
Your shortest night
Why, are there any long nights during BaselWorld? Please, tell me where to find them; quick!
Your longest day
Why, are there any short days during BaselWorld? Please, tell me how I, too can get one of those!
Your favourite watch
It is unquestionably Bvlgari's new extra-thin Octo Finissimo. We are familiar with round and thin watches and we would have worn those of our fathers' and grandfathers' more often if our girlfriends had not pre-empted them. This new Finissimo opens a new dimension not only due to its world-record thinness but also due to its contemporary style and its outstanding mechanical caliber.
Bulgari Octo Finissimo Tourbillon
The case – which is of a rare subtlety – looks splendidly elegant when worn: it is a pleasure for the experts and is reserved for any contemporary dandy…
The contact you most look forward to following up on and to getting to know better
When BaselWorld started, I met a guy who gave me the impression that he has a bright future ahead of him. He possesses everything needed to become the Kennedy of watchmaking: friendliness, good-manners, youth. He was visiting the Zenith stand and the name "Jean-Frédéric Dufour" was written on his card. I think that we should keep an eye on him as we will soon be hearing about him…