Visconti: from unique pens to transparent watches
Visconti's 'V' shines in Florence amongst the industrial legacy of the former Panerai factory where it is established. The brand, renowned for its writing instruments, also excels at watchmaking as the Crystal Demo collection illustrates.
It is refreshing to visit the brand's stand in the watchmaking-imbibed atmosphere of BaselWorld 2015. For over twenty years, its luxurious and detailed work has been famous through the writing instruments it produces, which include ball-point pens, fountain pens and rollers. These are a blend of unusual materials and convey a keen sense of finishes.
A worthy watchmaking dimension
Indeed, the brand's presence at the world's greatest fair is legitimate. To begin with, many watchmaking brands have worked in the past in the Italian region from where the brand hails and has established its headquarters.
Secondly, Visconti is a great expert in the design and production of watchcases and has a very defined style so it does not pose a threat to Swiss factories. The brand has indeed acquired Panerai's ex-factory, which is equipped with machinery and staff that are exceptional experts at producing waterproof cases. This, hence, allows this historical watchmaking cradle to perpetuate that tradition.
Not only are the new pieces of the Chrystal Demo collections water resistant to 5 atm (which is incidentally a true achievement for such complicated cases), but also some of them are transparent. More specifically, their cases (and the strap links in the case of a specific model) are made of sapphire. Visconti watches are gaining ground in spite of the brand often showcasing limited editions of writing instruments dedicated to inspiring themes, as is the case of the two limited editions dedicated to eroticism and prohibition respectively. Notwithstanding a recent collection that took a different approach, all its watches feature their signature 'V' sign of the two arcs that overhang their bezels. The sign also represents the brand and is present on its pens' clips. Its shape resembles that of the round lower archways of the famous Ponte Vecchio in Florence.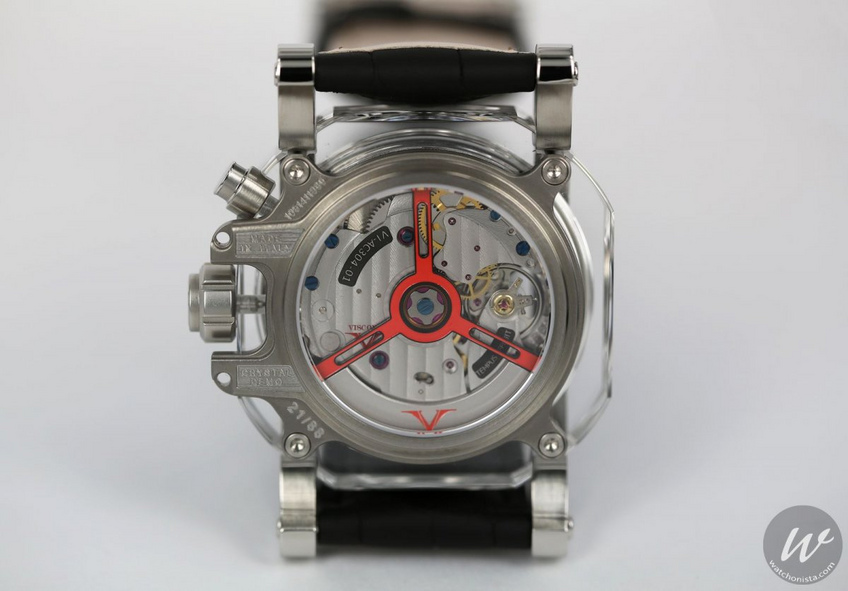 Visconti Crystal Demo Steel backcase
A Technotime Swiss caliber
My favorite is the full sapphire model, a version of the Chrystal Demo that uses this polished material in the strap links too. Yet, I must admit the limited-to-19-pieces "Steel Fumé" version, in a sort of trendy urban grey, is undoubtedly the most original of them all. The self-winding, double-barrel and 45-rubies Calibre Visconti VI-AC304-01 – developed by Technotime – can be admired from all angles. Its main features include a frequency of 28,800 vibrations per hour, an approximately 5-day power reserve whose indicator has been affixed at 5 o'clock, and a retrograde calendar at one-thirty. This watch is masculine but light and it features an anthracite dial as well as a 42-mm case.
By
Vincent Daveau
,
Contributor
Dial colors are often a good indication of trends. Blue has always been a sure value, but a chic grey serving as an alternative to black, which is often...