Lighter Watches: A Watchmaking Trend
A few years ago watchmakers only trusted heavy and bulky timepieces. Today, however, things have changed and brands offer a wider range of simple watches of around 39-40 mm as well as chronographs which rarely exceed 43 mm.
It goes without saying that there are still a large number of exceptions, but some trends seem to be emerging and among them one that we would not have expected to gain so much traction: lightness.
To quote Jean-Frédéric Dufour - Zenith's CEO - during the presentation of the brand's latest creations: "once you have experienced the pleasure of wearing a powerful and remarkably light watch, it is quite difficult to change back ". This year, the "lightweight" product at Zenith is the evolution of the first El Primero LightWeight. This model is 25% lighter than the previous one thanks to a greatly extruded titanium calibre and an even more elaborate carbon case. This is an effective and very efficient timepiece which imposes its design on the wrist. However, the carbon used - extremely robust and virtually non-deformable - has the drawback of being very sensitive to scratches because of its hypoallergenic resin components, which at the end of the day are easily deformable polymers.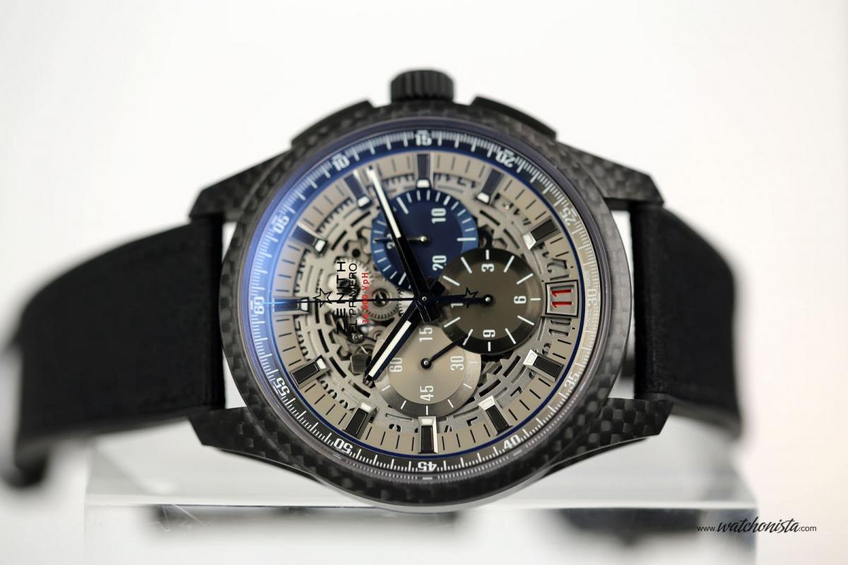 Zenith El Primero Lightweight Edition 2014
This would explain why many brands attracted by these special, light and robust materials sought other solutions. Indeed, they decided to either protect the sensitive resins with metal or ceramic to limit their use to insets and components not directly exposed to impacts. Yet, this relative fragility does not prevent brands like Bulgari from using it. In this case, Bulgari have decided to reissue the pure carbon Bulgari-Bulgrari, a quite affordable quartz reference which has sufficient quality to achieve the perfect association of class and lightness in all situations. Less accessible but decidedly more complicated, this year's Meccanico dG Carbone by de Grisogono has a forged carbon case, as with some Audemars Piguet's Royal Oak Offshore.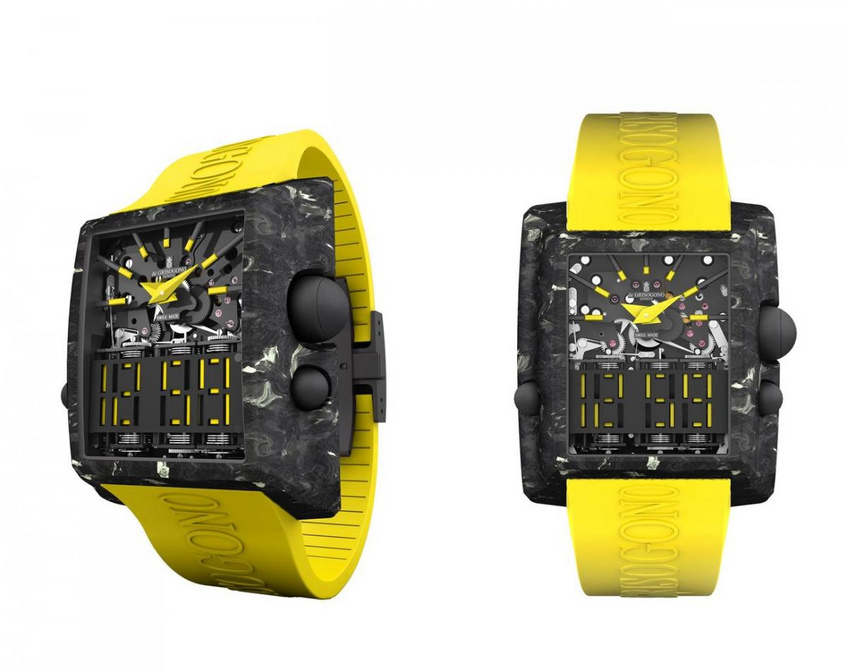 deGrisogono Meccanico Carbon

TAG Heuer could not miss the opportunity to also play with this contemporary compound, often used in the automotive industry, and still uses it in some of its collections. However, other brands, more intrusive and smaller, dare to decline lightness with other materials known for their weightlessness. For instance, Bernard Richards, known to be a "field" watchmaker and often on the tracks, did wonders with the MK- 44, whose housing is made of Makrolon . This is a robust and transparent polymer of polycarbonates used for the windscreen of roadsters and pilot's thick visors.
But the material that made the biggest breakthrough this year is none other than aluminum based crystalline transparent ceramics. This alloy, known for its lightness and also its relative ductility, is obtained through an electrochemical treatment which turns it as hard as ceramic while retaining its native qualities. Launched by Panerai in 2011, this compound has since been on its merry way. It is found, among others, at the heart of Louis Vuitton's eVolution collection. Furthermore, this material called "Black MMC" encases the housings of the eVolution Tambour Tourbillon models as well as the new Spin Time GMT model. It is also found on Hublot's Classic Fusion declination of the Tourbillon Skull.