H.Moser & Cie Perpetual Calendar Black Edition: furtive revolution
H.Moser & Cie's dynamics and its vision of horology are most certainly found in the way it approaches the promotion of its perpetual calendar's complication presented in a DLC-coated titanium black case.
The manufacture was established in 1828 by Heinrich Moser and is based in Neuhausen am Rheinfall in German-speaking Switzerland. For those who do not know, it has benefitted from different investments and the precious expertise of Georges-Henri Meylan through MELB holding in 2012. The young and enterprising Edouard Meylan has been the manufacture's CEO since 2013. He is a true watch passionate and his father's worthy offspring; he has a vision for the company and intends to produce watches which strike a balance between tradition and innovation. This is a major challenge for the brand has around fifty employees for an annual production of approximately 1,000 watches. Thus, the brand is presenting an assortment of interesting new watches this year - such as the Perpetual Calendar Black Edition - which meets the requirements of the majority of its public.
The luxury of the inconspicuous
It is almost impossible to detect H.Moser & Cie's perpetual calendar at first glance, especially for those who are not familiar with the subtleties of this in-house complication. We must admit that, even though it is one of the most innovating in-house mechanics, there is almost nothing that points in that direction on the dial. However, the movement housed in this DLC-coated titanium case owns a complex mechanism that enables it to adapt to the vagaries of the calendar. In other words, the caliber displays the date in an aperture taking into account the number of days in odd and even months without exterior help. It also considers all other potential alterations of the calendar due to leap years.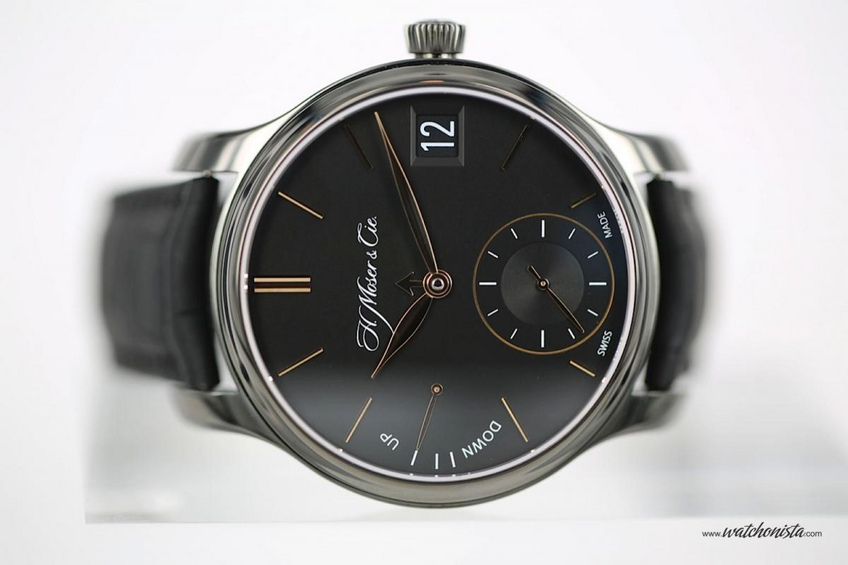 The perpetual calendar mechanism is also equipped with a system called "Flash Calendar" whose purpose is to instantaneously change the date by using the energy saved in the movement during the day. This energy is accumulated little by little to avoid disturbing the adjusting organ. We need to add that brand has chosen a remarkably sober month display: a small hand in the shape of an arrow that points towards the hour indexes from a perforation in the center of the dial.
Each of these twelve indexes indicate one month of the Gregorian calendar. This subtle and efficient hand-wound timepiece features a power reserve indicator at 9 o'clock. Its trotteuse is equipped with a Hacking Seconds which enables the watch to be set precisely to the second. This timepiece seems to indicate that the brand has taken a more contemporary direction with its willingness to target a new clientele looking for more effusive or at least more identifiable, yet subtle, watches. This bold and elegant Perpetual Calendar Black Edition will be on the market from May 2014. It will certainly attract men who find some pleasure in anti-conformism and who know how to express their difference with great distinction.
By
Benjamin Teisseire
,
Contributor
Moser & Cie is one of those independent watchmakers that counts and that keeps thriving. Once more this year, the Schaffhausen maison surprised and...