Interview with Jean-Christophe Babin: Bulgari's place in watchmaking
In 2013, he remained silent about his start at Bulgari. Jean-Christophe Babin was just finishing off a thirteen-year stint at TAG Heuer. Just before the 2014 opening in Rome, the top man at Bulgari answered the questions everyone was asking. He is about to get back into the spotlight.
How can you define the brand Bulgari today?
Jewelry – which is what we do in Italy – is our work, our specialty, where our heart is. It's quite simple, actually, we have been a jewelry brand for the past 130 years and that is what we have just been celebrating. The company was launched with jewelry, in fact right at the start with silver, and then we moved rapidly to more precious materials.
What is the brand's main source of inspiration?
Over the decades, the jewelry side developed by taking its cue from Rome. It produced some visual and esthetic codes like the Parentesi, the B. Zero1 and the Serpenti. Let me mention the Basilica of Maxentius, which is over 500 years old. So the bulk of our creations have been inspired directly by 1900 years of art that stretches from the days of the Etruscans to neoclassicism. It's what gives us some very powerful codes in jewelry ever since the 1930s with Serpenti, and, in the 1970s, with Bulgari Bulgari, which is in fact the contemporary incarnation of a Roman currency that found its way into watchmaking as well as in accessories, like spectacles, …
Bvlgari Serpenti a high jewellery watch showcased at Via dei Condotti 10
Is that an asset for the watchmaking field?
Bulgari watchmaking benefits a great deal from its jewelry codes. Which is precisely what makes it atypical in the world of watchmaking, often a very normed and classical industry. Even if Swiss know-how has been added to these very Roman jewelry codes, which is what makes up the Bulgari style, our own watchmaking creates products that have a lot of character, a lot of vigor. They are very structured, without compromise, one could say. These are products that reflect Rome, because Rome is awe-inspiring, it is magnificent, it is also a city that stands no compromise, regardless of the century. Whether you are looking at the palace of the Coliseum, which goes all the way back to ancient Rome, or some of the more recent palaces from the neoclassical era, you will always find that power, that opulence in our jewelry and our watches.
Like the Octo, for example?
An Octo does have a strong architecture, it's not your classic round and thin watch … It expresses a very willful desire to connect with codes, in terms of design, that make Rome a totally unique city. And we have added Swiss know-how, which matches that of the biggest manufacturers, since we are one of the only brands able to do its own mechanical movements, its dials, its straps and its cases. That is the magic of Bulgari. On the one hand, we have the best of Swiss know-how in all the main crafts that contribute to haute horlogerie. On the other hand, we have design inspiration that no other purely Swiss brand can hope for. Let's face it, creation at Le Sentier, Le Locle or in Geneva, in a cultural environment that is no doubt interesting, can hardly be compared to the abundance and inspiration that a city like Rome can convey.
What is Baselworld 2014 looking like?
We already have a few horological icons in our company. The best known one by far is surely the Bulgari Bulgari. What makes it interesting is that it speaks to men as well as women. It came into being as a men's watch in 1975 with the Bulgari Roma, which we actually reintroduced this year for our 130th anniversary. But it is also a ladies' watch. Then we have another icon, the Serpenti, which is only for ladies. So we are going to emphasize the feminine side, since we are, after all, a jewelry brand and therefore mainly in women's sights. This doesn't mean that we are not taking care of men, but women are very much the core aspect of Bulgari…
How will this focus on women be expressed?
This year we will be adding a new, exclusively ladies' line to Bulgari-Bulgari and Serpenti. It is more conventional than the Serpenti, which remains an extremely polarizing direction. After all, wearing a "serpent" is not something you do every day, nor even want to do. This new watch is in many ways a very jewelry -oriented watch, it is more "day-to-day," if you see what I mean, more universal. And its price is more accessible, since the Serpenti, due to the complexity of the bracelet, is still a very expensive watch to manufacture, and is therefore expensive to buy. So using the inspiration of Bulgari codes and drawing from our roots, we have produced a wholly feminine line positioned in the 3,000 - 25,000 euro range, the latter for the version with diamonds. That is between Bulgari Bulgari and Serpenti. One big novelty: it's in steel gold.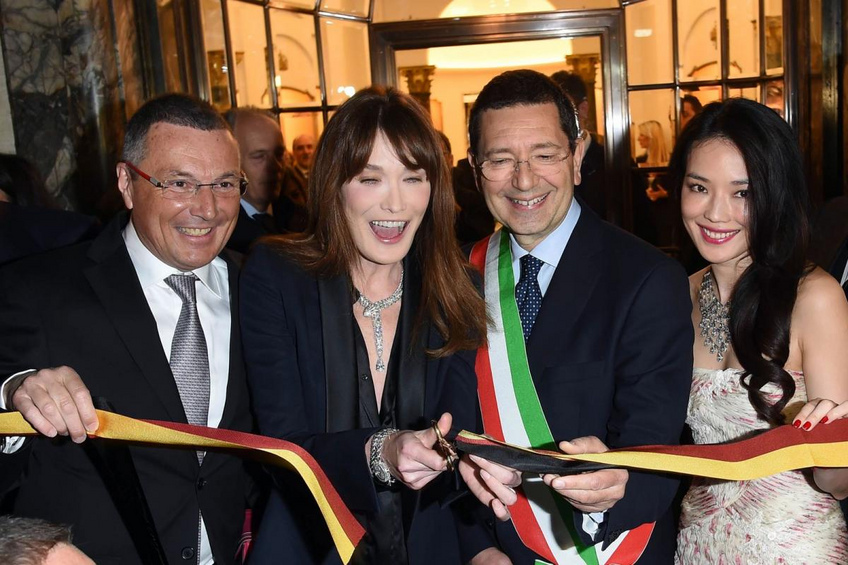 Jean-Christophe Babin, Carla Bruni-Sarkozy, Ignazio Marino & Shu Qi at the 130 years' celebration
Steel gold? Could you tell us more?
It's a brand new piece, created from scratch. Steel gold means that it is an evolutionary development that will take us towards white gold, pink gold, and other precious materials, not the other way round. This may be perceived as being very Asian, but it's a tendency that is also increasingly appearing in the West. One of our priorities in watchmaking will therefore be to emphasize the feminine aspect of the brand. Yes, we do sell watches to women, but we could do better. And to do that, we were lacking the line we are now launching in Basel. It is universal, multifaceted in its build, made for daily wear, it can be made with different material combinations, or be driven by a mechanical or quartz movement. It's not a revolution. Rather, it's a product that was not yet in our portfolio. And we are also going to provide this line with a communication strategy that is coherent with our goals.
What about the Octo? Will 2014 be a big year for it?
This year, in Basel, the Octo will become a truly masculine collection. It is no longer a three-hand, 41-millimeter watch with a Vaucher movement inside. It now comes in various sizes, it has become a chronograph, it is open to complications, but always remains in the elegant league and made with precious materials. It will no longer be made strictly of steel or gold uniquely, but will also come in steel-gold, or platinum. So we are launching the world's thinnest tourbillon. The Octo is now becoming a vertically integrated manufacturing line, because its cases and dials are manufactured in-house.
What about the movement?
The Octo collection expresses both the Italian art of design and the Swiss know-how for movements. Because all the movements will be equipped with in-house calibers, which is unique and gives evidence of our own watchmaking know-how independently of our jewelry know-how. For the three-hand model, we have our base caliber 191, which has become the Solo Tempo. For the chronograph, we will be using the El Primero as a base, in other words, the best in terms of chronographs. We will be entering the world of complications with our ultra-thin movement Octo Finissimo. Like the Solo Tempo, the Octo Finissimo was developed entirely in-house, from scratch. So barring the chronograph with the El Primero, which is still a cousin, we will be 100 percent Bulgari.
Will you continue using the names Daniel Roth and Gerald Genta, which are part of your horological history?
When we purchased Daniel Roth and Gerald Genta, we acquired know-how in the shape of master watchmakers and movements. They are the ones who, today, allow us to come up with the world's thinnest tourbillon made entirely in-house. Without this skill asset, we would not own the mastery in watchmaking that we now have. But the past is the past. Our latest movements have nothing to do with those two men, whom we respect highly and who inspired us. Of course, they had the know-how that we now have thanks to the acquisition. Those two brands are only known by a small percentage of buyers, and it is diminishing year by year, since the Bulgari brand has far greater strength and notoriety in the field of watchmaking. And that notoriety it owes to its status as a luxury brand that does lots of communication.
Speaking of communication, are celebrities also a part of the Bulgari strategy?
Some jewelers boast being the jewelers of kings. We are more the jewelers of stars, Cinecittà, Hollywood…. Bulgari was always connected with the world of glamour and the arts. It was not so much a question of publicity. Rather, it was the fact that its products were worn around the necks and wrists of stars. Our last campaign with Carla Bruni illustrates well our style and sophistication as well as our "Italian-ness" by way of a woman who is also a person of strong character, a warm and very accessible person. She is not a typical ambassador, as she does not come from the world of cinema, but rather from music. Of course, there is a political aspect that we cannot ignore. For lots of people, her first lady status is quite fascinating. Power is always something fascinating anyway.
Are you still in contact with stars like Cameron Diaz, whom you were acquainted with?
We maintain good relations, but I can't really say friendship. I frequently receive or send a text message or an email. So we stay in touch, and if we do hold some event and Cameron Diaz is nearby, well, it's always a pleasure to see her.
How much of Bulgari is watchmaking?
It's less than the jewelry segment. It remains one of the three main pillars, a pillar where the average price of about 8,000 francs is higher than the price for jewels. Even if we have some jewelry pieces that are worth several million francs, we also have others that cost just over 1,000 francs. But we have no watch at that price. The average price of a watch is higher than the average price of our other product classes.
What are your ambitions for Bulgari?
When you take the helm of a company such as this one, you have to remain humble. It has a reputation that is built upon 130 years of history and strong codes, and with incredible success stories. For example, between 1990 and 2005, Bulgari was the brand that had the strongest and steadiest growth in the luxury segment globally. So you must give enormous credit to those who came before me and take on this challenge with lots of humility. We want to move our brand into the top ten world-wide. To do this, we will use Bulgari Bulgari, whose codes will also feed the universe of fragrances and handbags. And by extending certain lines this way we will enhance our jewelry offering, which should cover actually address a larger spectrum of consumers. Altogether, this should reposition Bulgari in the mainstream. Today, we are in the top 15, so there is no reason not to be in the top 10.