Interview with Elie Bernheim, a music-loving and rigorous CEO
Elie Bernheim, grandson of Raymond Weil – founder of the eponymous brand – has the firm intention to preserve the family Maison's independence and take it to new heights.
You knew your grandfather and founder of the brand very well. What values did he pass on to you?
Indeed, I knew my grandfather, who passed away last January, very well. In 1976, he founded this company right in the middle of a watchmaking crisis. Not long ago, when he was still amongst us, he inquired about our current projects and discussed them with us. I did not just know him; we used to spend a lot of quality time together. It was he who taught me that human value is essential. Today, this is what defines my life. This value is the driving force of our family-owned and independent company. We owe our independence and the family aspect of our company to our talented and devoted collaborators and to the network of suppliers who support us.
We also have a whole network of regular distributors and retailer partners all around the world. All we did was add value to the brand, favor human contact and occasionally provide responsiveness to obtain results. We do not make vague promises and this is undoubtedly the strength of a family company that is far more proactive in managing problems and being closer to its clients and suppliers. Take the call I just received for example. It was from one of our biggest retailers in the United States who didn't have some particular models in stock. I was able to provide him with a solution in only five minutes. This would have been a completely different story in a big group where this person would have had to go through a stream of managers and directors. Responsiveness and swiftness are first and foremost human values and they are what define our company.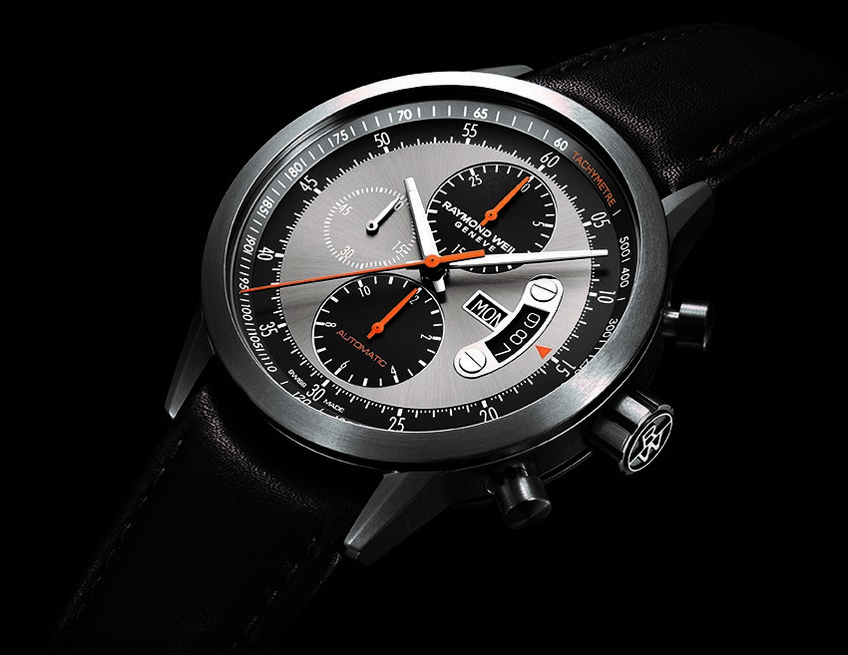 The new Raymond Weil Freelancer 7745-TIC-05609 will be unveiled next May 15th

Since you were born in horology, what will be your contribution as CEO of the brand?
Each generation brings its share of development and skills with it. In my case, it is dynamism because I have ambitions for our Maison. I was born in this company; I was raised as the son of doctors who hears his parents discuss their different patients every night.
I have witnessed the evolution of this company since a tender age. Thus, I have witnessed it in the past and even more actively in the last nine years. I hope that the next twenty-five years will bring dynamism and prevent the brand from being acquired by a group. The brand has to specifically acquire important shares in some markets. Depending on the cases, we are currently number 2 or 3 of a price segment varying between CHF 800 and 4,000. We aim to use this particular segment to expand. Once this objective is met and this market consolidated, then yes, why not diversify in other segments? But not before that! My strategy differs slightly from the one that has been applied for the last two generations in the sense that I do not intend for the brand to be everywhere just to establish and maintain a reputation.

Do you think your father hesitated to hand you the reins of the Maison?
Hats off to my father! He retired at only sixty while many have reached a venerable age and are still directors of brands. My father took into account that I was 33 years old before deciding to trust my youth. He took care of handing me responsibilities little by little, of working by my side for nine years. He believes that it is best to hand me the torch while he is still at his best in order for me to benefit from his expertise, experience and knowledge of markets.
Now, he supports me and does it very well. He will remain Chairman of the Board.f

What have been the evolutions of the watch market ever since you started as CEO of the Maison?
We are present in more than eighty-five markets. Currently, twenty important markets make up for 80% of our turnover. It is in these markets that the brand has a major role to play.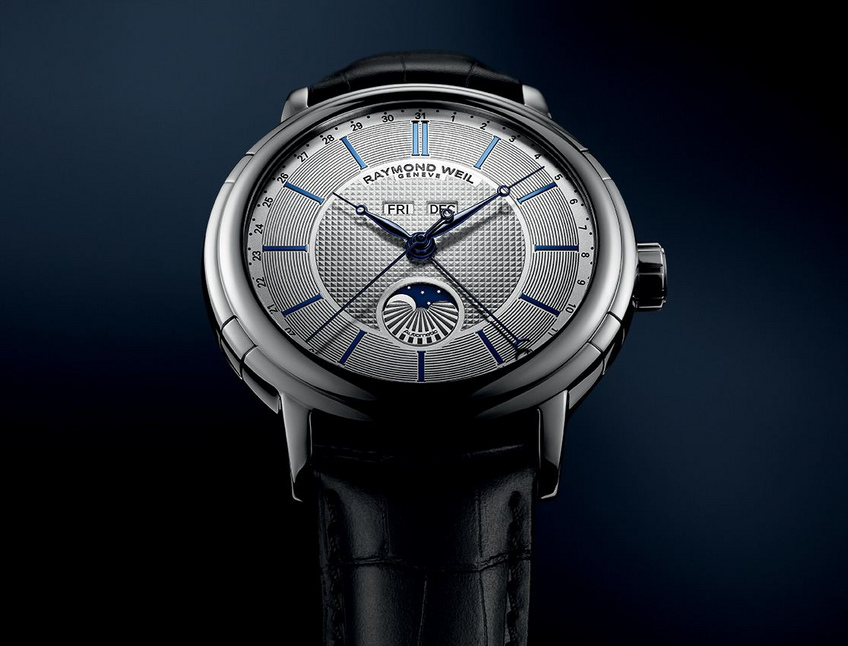 Raymond Weil Maestro 2869-STC-65001 with Moon phase a Baselworld 2014 novelty

Why is it so?
The positioning is precise and clear; we have a range of products varying from CHF 800 to CHF 4,000. We also have a network of retailers who correspond to this category of offers and it is truly on this particular price segment that we have a high reputation that brings important sales. We have work to do to consolidate the brand. One of my missions is to be the guardian of this strategy. I thrive upon caring for continuity and coherence. In the past, many brands have witnessed ups and downs due to changing economic climates. I think that a brand needs to keep its own guidelines and have its own long-term vision.
Your family loves music; which type of music do you like?
I have been immersed in classical music since my childhood. At the age of three, I was already playing the piano. Now, I have two diplomas, one in piano and one in cello. I have also played other classical instruments.
These remain my first passions but I also like my generation's music. In short, I am quite eclectic. Moreover, for the past eight years we have been the official partners of the BRIT Awards, a prestigious ceremony, which annually honors talented and successful artists. In fact, even if most of our regular clientele have been there for the last forty years, it was important to freshen our image. And what better opportunity to do this than the British musical industry! If you must know, I was the one to suggest this initiative.

What do you think about digital marketing?
Five years ago, digital marketing represented 5% to 10 % at the very most. Nowadays, the split marketing of my ad hoc departments represents 30 % and it is downright one of our most important evolutions. Our most successful communication operations last year were in collaboration with some of our retailers. The most important thing for me is to have feedback. It is much more interesting for us, and it enables us to better target our communication. All these tools are essential for me.
By
Joel Grandjean
,
Editor-in-Chief
Perrelet's new CEO spoke to us in Geneva showing his clear narrative, pragmatism and respect for the brand. He conveyed his vision of a brand he is...
By
Joel Grandjean
,
Editor-in-Chief
Broadcasted live internationally, the Brit Awards rewards the best of the music scene. Raymond Weil celebrated its eighth year as the Official Watch &...