Baselworld 2015: three ladies watches
Once upon a time over 2000 exhibitors decided to go to Baselworld to proudly expose their hardwork. Divided into a variety of arts et métiers, those brands all related to watches or jewelry are spread out within five different halls.
Yet, it is in a little white hunt located in front of the Ramada hotel that 40 implacable independents brands have decided to invade what is called the Palace in order to show the world - the horologic one though… the beauty and complexity of their timepieces.
Revelation, a brand created a few years ago by Anouk Danthe and Olivier Leu are two watch connoisseurs. They worked in the most prestigious brands of the industry for the past two decades and developed the magic dial, what became their emblematic piece. Optimizing it, they launched the First Lady, where the bezel rotates on a 90° angle to reveal functions of the watch. Good-luck charms being the 2015 theme, a lady-bug delicately made of ceramic sitting on a four leaves clover moves to expose the date. A playful and poetic way to seduce women.
The deep dark celestial and magical blue of De Bethune is a no-brainer. Always have and always will. The original classic DB25 has been refined just enough for a fresh and lighter look. The blue roman numbers indicating the hours and the minutes located on the edge of the guilloché dial are still there but since details make it all, the snowfall setting used on the slimmed horns and bezel are what set the snow-white DB25 as a true feminine timepiece.
Mirror, mirror of the wall, who is the fairest of them all… Snow-white was a famous princess but so can you. Enter the Manufacture Royale kingdom to admire their iconic 1770 tourbillon with an in-house caliber, ivory dial and set for the first time with one rank of diamond baguettes on the bezel. And for full experience, don't forget to sit on the throne and smile with majesty, it will be a nice memory.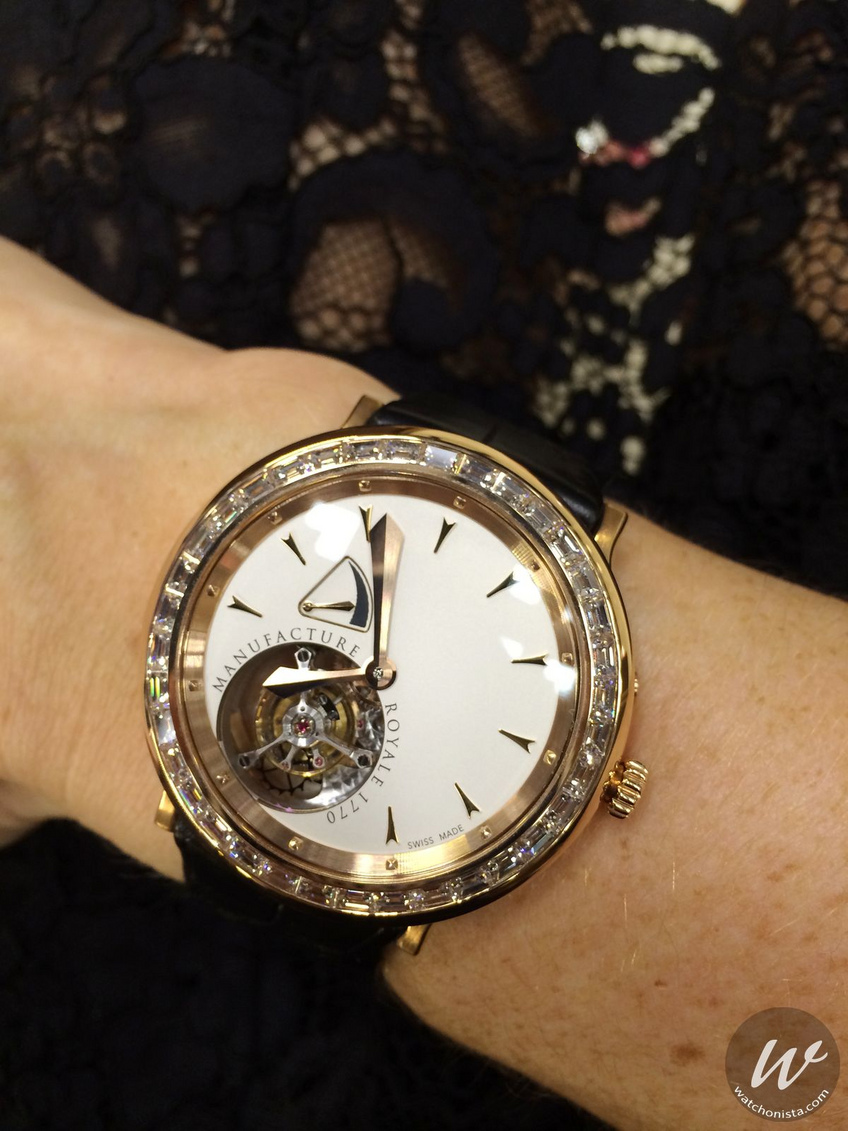 Manufacture Royale 1770 Tourbillon
Let's keep on moving into the whimsical journey of Basel's horological ateliers…
The fabulous Basel journey keeps on going… where feet and arms are feeling it with thousands of daily steps carrying around shopping bags as if we...